---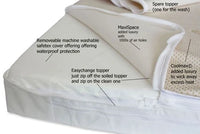 Autumn Offers
117 x 54 cm NightyNite® Easychange® - Foam Cot Mattress - Coolmax© & MaxiSpace Toppers 


Features

Class 28 CMHR foam core offering firm support for your baby.
Foam cot mattress core is wrapped in stockinette fabric.
Safetex zip-on washable protective base cover.
Luxury quilted Coolmax© and Maxispace toppers that zip on to the Safetex base cover.
Box Packed



Benefits

The outstanding benefit of our "Easychange" cot mattress design - you just zip off the soiled topper and zip on a clean one. A Godsend for those untimely accidents.


The separate Safetex zip-on waterproof protective cover is easy-wipe-clean, it fully protects the mattress core, The toppers zip on to this cover.

A luxury quilted

Coolmax© and Maxispace

topper zips on easily to the Safetex waterproof easy wipe clean base cover.
The Safetex base cover and topper both machine wash at 60°c - the temperature required to kill dust mites.


Coolmax© & Maxi-Space fabric offers better temperature and moisture control, breathability and comfort than standard polyester or even microfibre. What's more, It's no secret that Coolmax© works much more efficiently with Maxi-Space than it does on its own, or with quilting.
Anti static - prevents the build up of static electricity.
The foam core contains no added antimony or phosphorous as recommended by the Lullaby trust. The Sleepeezi offers a firm safe sleep surface it is made from 28 kilo foam.it exceeds 

British Standards BS1877 and BS7177.

Sleepeezie great value although it does not compare to the extra durability comfort and support of The Reassurance, Excellence or the Dependable - all guaranteed 5 years.


We no longer use heavy duty plastic outer wrap for packaging. instead a recyclable cardboard box, protecting your mattress and helping to protect the environment too


See the video, don't miss the Easychange® interchangeable toppers