---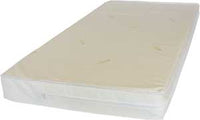 Special Offers
84 x 36 x 4cm, Ambassador Foam Crib Mattress Waterproof liner - Washable Coolmax© & Maxispace Cover 
Introducing the Ambassador Foam Crib Mattress: Waterproof Liner, Washable Coolmax© & Maxispace Cover - 84 x 36 x 4cm.
Product Features:
28 CMHR 4cm deep supportive foam with a stockinette wrap for added protection and durability.
Safetex protective waterproof liner for easy wipe cleaning.
Coolmax and Maxi Space Cover with a full zip, machine washable at 60°C.
Benefits:
The CMHR28 firm foam core is safeguarded with a stockinette layer and a waterproof liner that can be easily wiped clean.
The top surface of the NightyNite® mattress features a combination of Coolmax© and Maxi-Space fabrics.
Coolmax© is a renowned fabric widely used in the mattress industry. It is specially designed to regulate body temperature and dissipate heat.
The Maxi-Space fabric, bonded underneath the Coolmax© layer, offers continuous air circulation, excellent breathability, shock absorption, and heat and moisture reduction. Together, these fabrics create an ideal sleep surface for your baby.
The Safetex easy wipe clean protective liner is placed beneath the Coolmax© and Maxispace cover to provide maximum breathability while ensuring mattress core protection. The cover itself can be conveniently machine washed at 60°C.
All our mattresses comply with British standards BS1877 and BS7177.