---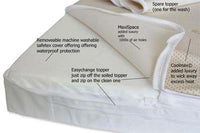 Autumn Offers
120 x 60 cm Nightynite® Reassurance Cot Mattress with Coolmax© and Maxispace 

Features

Two toppers with this mattress
Pocket sprung mattress encapsulated in "Blue Top" foam. 
Pocket sprung core is wrapped in stockinette fabric.
Safetex zip-on washable fully waterproof  protective base cover.
Luxury quilted Coolmax© and Maxispace topper.
Box Packed.
5 year guarantee.
Benefits
The outstanding benefit of our "Easychange®" cot mattress design -  just zip off the wet topper and zip on a dry one. 
Our "Blue Top" foam that encapsulates the pocket sprung base is CMHR 30/150. This is a higher grade than found in most other pocket sprung cot mattresses available today. "Blue Top" foam supported by high quality pocket springs will give more comfort, support, durability and resists dipping or denting. (Want to know more about the advantages of the best foam)
The  separate Safetex zip-on waterproof protective cover is  easy-wipe-clean, it fully protects the mattress core, The luxury quilted Coolmax© and MaxiSpace toppers zip on to this cover. PLease see the Video below Showing  the Easychange® System
The Safetex base cover and topper will machine wash at 60°c - the temperature required to kill bacteria and dust mites.
The Maxi-Space bonded to the

Coolmax© 

is a 3D fabric which provides constant air circulation, maximum breathability and temperature control, along with shock absorption and heat/water reduction.
The Coolmax© & Maxi-Space topper is  machine washable at 60°C, the temperature needed to kill dust mites.
All of our mattresses conform to British Standards  BS7177.

16890:2017+A1:2021
The pocket sprung core contains no added antimony or phosphorous, as recommended by the Lullaby trust. 
We have ceased using heavy duty plastic wrap for our despatch packaging in favour of a recyclable cardboard box. Better for the environment and your mattress arrives in perfect condition!
 The Easychange; - Why buy any other Mattress?