---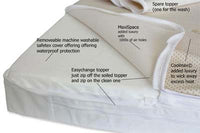 Special Offers
132 x 77 NightyNite NaturalStart Cot Mattress, Coir and Lambswool,  Two Easychange Coolmax and Maxispace Toppers 
Features
Foam free
2CM deep luxurious supportive lambswool either side of a firm  6 cm deep natural  coir central core (total 10 cm deep)
Easychange Coolmax and Maxispace Toppers 

Stockinette wrap

Waterproof Safetex washable protective base cover
Benefits
The NightyNite® NaturalStart has a natural coir and lambswool core. completely foam free



Each side of the coir there is as 2 cm deep luxurious layer of lambswool .

The lambswool is held in place with Stockinette. Lambswool helps to keep your baby warm in winter and cool in summer.


The stockinette ensures it is easy to remove your Safetex protective  base cover for machine washing.


Saftex protective base cover zips around the whole natural mattress base. it is waterproof aand easy wipe clean 


The Coolmax and Maxispace toppers zip on to the Saftex base cover these toppers are wasable at 60°c and you get a spare toppers (one for the wash)


The Coolmax and Maxispace fabric is highly breathable and offers temperature control.


The only difference between this mattress and The Dependable is the base. This base does not have any pocket springs in it.  So it is slightly firmer.   


All of our cot mattresses conform BS EN 16890:2017, the safety regulation that governs cot mattresses.  a


NB  the advantage  of the Easychange covers  over the Outlux is that it offers more breablilty and temperature control and is a more luxurious fabric
The  advantage of the Outlux cover is that it is natural and to turn te mattress you just flip the mattress over.
With the Easychange® system you remove the base cover turn the mattress and refit the cover.