---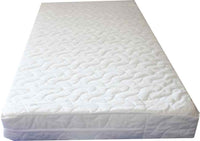 Special Offers
Foam Cot Mattress   90 x 54 cm   Quilted cover, Waterproof Protective Liner 


Supportive Foam Core
Foam unit is wrapped in stockinette fabric. - reduces static
Waterproof protective liner fitted over the stockinette fabric and under the microfibre cover to allow maximum breathability yet full waterproof protection 
Washable microfibre cover
Benefits
Wrapping the foam base unit in stockinette fabric reduces static and accommodates the Safetex protective liner. Waterproof liner protects the mattress core yet allowing maximum airflow.

The cover is made of micro fibre it will machine wash at 60°c - the temperature required to kill dust mites.

All of our cot mattresses conform to British Standards BS1877 and BS7177.

We have ceased using heavy duty plastic outer wrap in the favour of a  recyclable cardboard box. Better for the environment and your mattress arrives in perfect condition!